BY:
Warning: With every step forward into the future so shall the past unfold! Seek you not the next gate, less you know, where you have been!

Warnings/Consumer information
This game is intended for use by ages seven and up. Keep small and/or jagged parts out of the reach of children. The deceptive nature and ruling of this game, is intended for amusement and a new perspective for existing chess players. These principles of deception, are for defensive intent, not to create dishonorable conduct.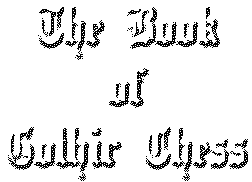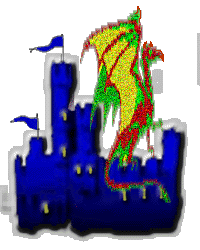 Follow the proper gates to join the story of Dragon and Bane, as some parts of the truth may only be found, through acts of patience. My regrets and regards to those without time to spare, for this act, has history in it's making!
A shekel for your thoughts ; if you truly believe this is a good game, please don't hesitate to tell some one else about this site. Bookmark this page and send it to other chess players, as Staunton chess has now been challenged; only time will tell, if today's players can survive, in this prehistoric battle of chess.
Acknowledgments:
As any other King, I hereby acknowledge the fact, that my Queen and Subjects are the primary motivational factors, in the development of this game. In Control with my life, these subjects are my escape from chaos, Agent wifey, A.K.A. the Boss, agent Bub A.K.A. the boy , agent Willow formerly known as Pookie and Dragon our cat. An honorable mention for agent Seven, who never lived to see the completion of this game, yet was most comforting and understanding during the early trial stages.
Peaceful competition, has reward not found in most endeavors, therefore, I must acknowledge my gratitude, towards those invisible historians who originally developed the game of chess.
The Most often asked question about chess is... How does this player move?!!!
The Best Answer is Magic !!!!
Seek you the guides of Dragonbane!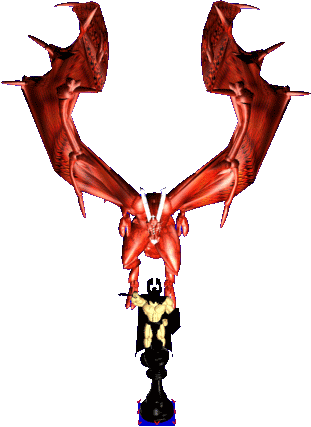 To be competitive in the entertainment industry, we would like to hear your comments and any ideas for improvements, regarding this game or this website. Dragon and Bane can be contacted at any of the following locations:

E-mail to: lbonnell@tru.eastlink.ca

snail mail to:
Dragon & Bane;
291 Queen St., Truro, NS, Canada, B2N 2C2
This story...
explains the Dragon's checkered past, who they are.... and how they lived!!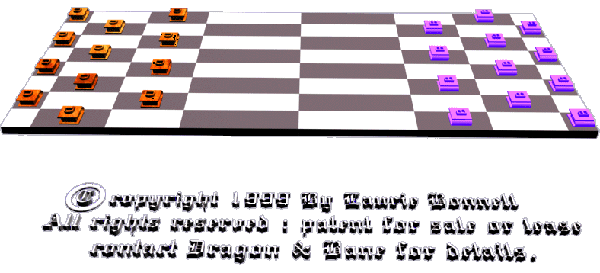 Teleconference with Dragonbane if you have MS NetMeeting@

www3.tru.eastlink.ca/lbonnell@tru.eastlink.ca